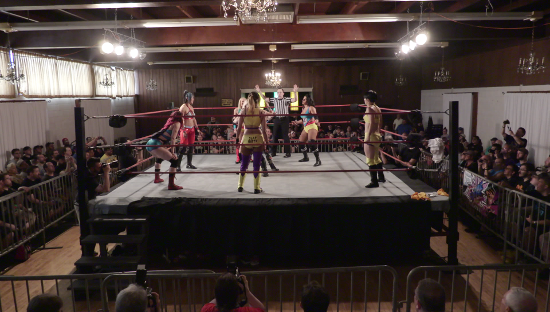 We're back at the Eagles Club during July!
SHIMMER and RISE will present a weekend of live events in the Chicago area at the
Berwyn Eagles Club
in
Berwyn, IL
during the weekend of
July 7th through July 9th
. Scroll down to order tickets for the July SHIMMER events via PayPal. If you cannot order online, E-mail
shimmernews@yahoo.com
for mail order instructions. The full upcoming events calendar is below.
RISE - Developing Tomorrow's Women Athletes
Friday, July 7, 2017 at 8PM - Eagles Club (6309 26th Street) in Berwyn, IL
Tickets available at WrestlingPipeline.com
SHIMMER 92 & 93
Saturday, July 8, 2017 at 2PM - Eagles Club (6309 26th Street) in Berwyn, IL
Scroll down for tickets
SHIMMER 94 & 95
Sunday, July 9, 2017 at 12PM - Eagles Club (6309 26th Street) in Berwyn, IL
Scroll down for tickets
SHIMMER 96
Date & Location To Be Announced
Tickets not yet available
RISE - Developing Tomorrow's Women Athletes
Friday, November 10, 2017 at 8PM - Eagles Club (6309 26th Street) in Berwyn, IL
Tickets not yet available
SHIMMER 97 & 98
Saturday, November 11, 2017 at 2PM - Eagles Club (6309 26th Street) in Berwyn, IL
Tickets not yet available
SHIMMER 99 & 100
Sunday, November 12, 2017 at 12PM - Eagles Club (6309 26th Street) in Berwyn, IL
Tickets not yet available
---
SAT. JULY 8 & SUN. JULY 9 (SHIMMER 92-95) TICKET PACKAGES
SHIMMER 92-95 (July 8 & 9) First Row Reserved Ticket Package $220
SHIMMER 92-95 (July 8 & 9) Second Row Reserved Ticket Package $120
SHIMMER 92-95 (July 8 & 9) General Admission Ticket Package $60
---
SATURDAY, JULY 8 (SHIMMER 92 & 93) TICKETS
SHIMMER 92 & 93 (Saturday, July 8) First Row Reserved Ticket $110
SHIMMER 92 & 93 (Saturday, July 8) Second Row Reserved Ticket $60
SHIMMER 92 & 93 (Saturday, July 8) General Admission Ticket $30
---
SUNDAY, JULY 9 (SHIMMER 94 & 95) TICKETS
SHIMMER 94 & 95 (Sunday, July 9) First Row Reserved Ticket $110
SHIMMER 94 & 95 (Sunday, July 9) Second Row Reserved Ticket $60
SHIMMER 94 & 95 (Sunday, July 9) General Admission Ticket $30
---