For a limited time, we are offering a free SHIMMER Winter 2016 roster poster with the purchase of
four or more SHIMMER DVD releases
from SHIMMERwrestling.com!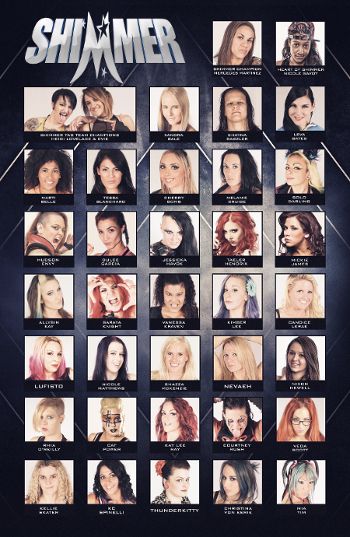 Click here to browse the available SHIMMER DVD releases!
The four newest SHIMMER DVD releases are Volumes 72-74. You can use the PayPal button below to conveniently purchase the set of four shows in one order, or continue to scroll down to purchase two packs, or each show individually.




Vols. 72-75 Four DVD Combo Price: $60.00


Vols. 74 & 75 Two DVD Combo Price: $30.00


Vols. 72 & 73 Two DVD Combo Price: $30.00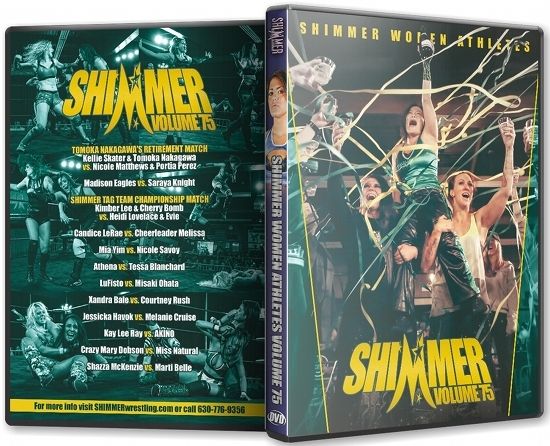 SHIMMER - WOMEN ATHLETES Vol. 75 (DVD)
Description:
1. Shazza McKenzie vs. Marti Belle
2. Crazy Mary Dobson vs. Miss Natural
3. Kay Lee Ray vs. AKINO
4. Jessicka Havok vs. Melanie Cruise
5. Xandra Bale vs. Courtney Rush
6. LuFisto vs. Misaki Ohata
7. Athena vs. Tessa Blanchard
8. Mia Yim vs. Nicole Savoy
9. Candice LeRae vs. Cheerleader Melissa
10. SHIMMER Tag Team Championship Match: Kimber Lee & Cherry Bomb vs. Heidi Lovelace & Evie
11. Madison Eagles vs. Saraya Knight
12. Tomoka Nakagawa's Retirement Match: Kellie Skater & Tomoka Nakagawa vs. Nicole Matthews & Portia Perez
Price: $15.00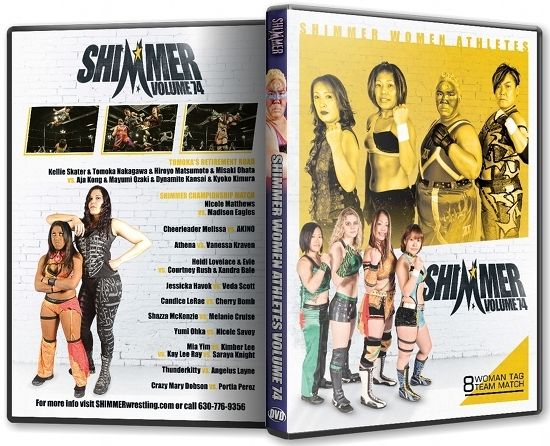 SHIMMER - WOMEN ATHLETES Vol. 74 (DVD)
Description:
1. Crazy Mary Dobson vs. Portia Perez
2. Thunderkitty vs. Angelus Layne
3. Mia Yim vs. Kimber Lee vs. Kay Lee Ray vs. Saraya Knight
4. Yumi Ohka vs. Nicole Savoy
5. Shazza McKenzie vs. Melanie Cruise
6. Candice LeRae vs. Cherry Bomb
7. Jessicka Havok vs. Veda Scott
8. Heidi Lovelace & Evie vs. Courtney Rush & Xandra Bale
9. Athena vs. Vanessa Kraven
10. Cheerleader Melissa vs. AKINO
11. SHIMMER Championship Match: Nicole Matthews vs. Madison Eagles
12. Kellie Skater & Tomoka Nakagawa & Hiroyo Matsumoto & Misaki Ohata vs. Aja Kong & Mayumi Ozaki & Dynamite Kansai & Kyoko Kimura
Price: $15.00
SHIMMER - WOMEN ATHLETES Vol. 73 (DVD)
Description:
1. LuFisto vs. Marti Belle
2. Crazy Mary Dobson vs. Melanie Cruise
3. Thunderkitty vs. Cheerleader Melissa
4. Mia Yim vs. Kyoko Kimura
5. Kay Lee Ray vs. Saraya Knight
6. Kellie Skater vs. Evie vs. Nicole Savoy vs. Allysin Kay
7. Athena vs. Tessa Blanchard
8. SHIMMER Tag Team Championship Match: Kimber Lee & Cherry Bomb vs. Courtney Rush & Xandra Bale
9. Heidi Lovelace vs. Misaki Ohata
10. Madison Eagles vs. Portia Perez
11. Tomoka Nakagawa vs. AKINO
12. SHIMMER Championship Match: Nicole Matthews vs. Jessicka Havok
Price: $15.00
SHIMMER - WOMEN ATHLETES Vol. 72 (DVD)
Description:
1. Jessicka Havok vs. Cheerleader Melissa
2. Courtney Rush & Xandra Bale vs. Taylor Made & Allysin Kay
3. Thunderkitty vs. Vanessa Kraven
4. Misaki Ohata vs. Nicole Savoy
5. LuFisto vs. Miss Natural
6. Shazza McKenzie vs. Veda Scott
7. AKINO vs. Portia Perez
8. No Disqualification Match: Evie & Heidi Lovelace vs. Saraya Knight & Mayumi Ozaki
9. Madison Eagles vs. Yumi Ohka
10. Two Out Of Three Falls Match: Athena vs. Mia Yim
11. SHIMMER Tag Team Championship Match: Kellie Skater & Tomoka Nakagawa vs. Kimber Lee & Cherry Bomb
12. SHIMMER Championship Match: Nicole Matthews vs. Kay Lee Ray
Price: $15.00
SHIMMER - WOMEN ATHLETES Vol. 71 (DVD)
Description:
1. Evie vs. Portia Perez
2. Candice LeRae vs. Nicole Savoy
3. Nikki Storm vs. Cherry Bomb
4. Kay Lee Ray vs. Kimber Lee
5. Athena vs. Mia Yim
6. Jessicka Havok vs. Cheerleader Melissa
7. Second Round Tournament Match #1
8. Second Round Tournament Match #2
9. Second Round Tournament Match #3
10. SHIMMER Championship Match: Nicole Matthews vs. Tomoka Nakagawa
11. Three-Way Elimination Tournament Final Match
Price: $15.00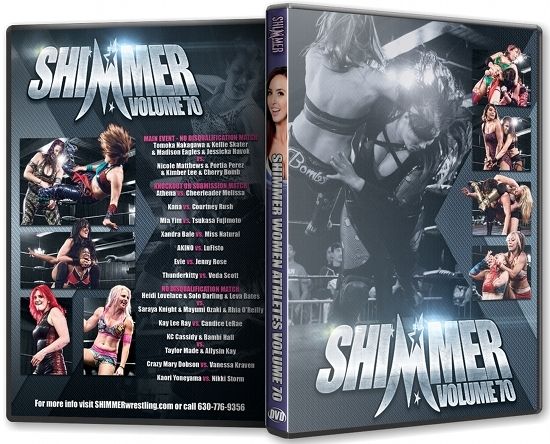 SHIMMER - WOMEN ATHLETES Vol. 70 (DVD)
Description:
1.Kaori Yoneyama vs. Nikki Storm
2. Crazy Mary Dobson vs. Vanessa Kraven
3. KC Cassidy & Bambi Hall vs. Taylor Made & Allysin Kay
4. Kay Lee Ray vs. Candice LeRae
5. Heidi Lovelace & Solo Darling & Leva Bates vs. Saraya Knight & Mayumi Ozaki & Rhia O'Reilly
6. Thunderkitty vs. Veda Scott
7. Evie vs. Jenny Rose
8. AKINO vs. LuFisto
9. Xandra Bale vs. Miss Natural
10. Mia Yim vs. Tsukasa Fujimoto
11. Kana vs. Courtney Rush
12. Knockout Or Submission Match: Athena vs. Cheerleader Melissa
13. No Disqualification Match: Tomoka Nakagawa & Kellie Skater & Madison Eagles & Jessicka Havok vs. Nicole Matthews & Portia Perez & Kimber Lee & Cherry Bomb
Price: $15.00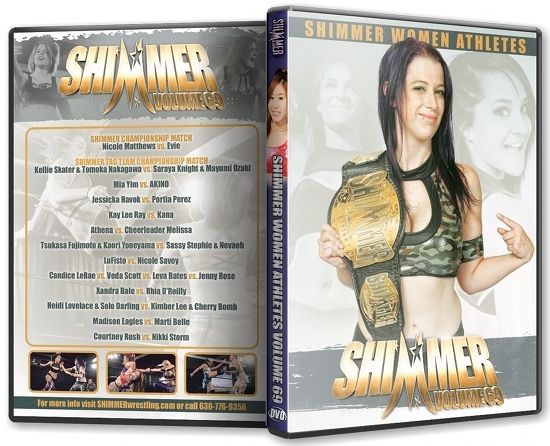 SHIMMER - WOMEN ATHLETES Vol. 69 (DVD)
Description:
1. Courtney Rush vs. Nikki Storm
2. Madison Eagles vs. Marti Belle
3. Heidi Lovelace & Solo Darling vs. Kimber Lee & Cherry Bomb
4. Xandra Bale vs. Rhia O'Reilly
5. Candice LeRae vs. Veda Scott vs. Leva Bates vs. Jenny Rose
6. LuFisto vs. Nicole Savoy
7. Tsukasa Fujimoto & Kaori Yoneyama vs. Sassy Stephie & Nevaeh
8. Athena vs. Cheerleader Melissa
9. Kay Lee Ray vs. Kana
10. Jessicka Havok vs. Portia Perez
11. Mia Yim vs. AKINO
12. SHIMMER Tag Team Championship Match: Kellie Skater & Tomoka Nakagawa vs. Saraya Knight & Mayumi Ozaki
13. SHIMMER Championship Match: Nicole Matthews vs. Evie
Price: $15.00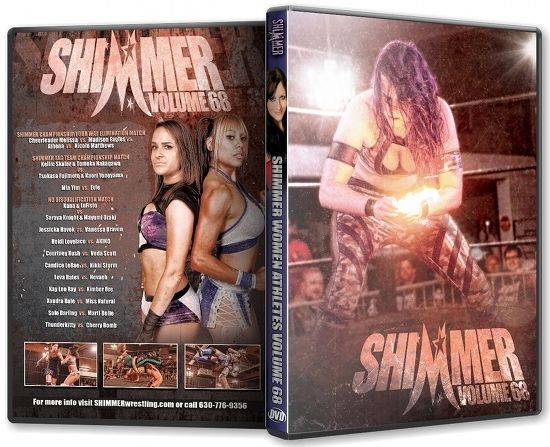 SHIMMER - WOMEN ATHLETES Vol. 68 (DVD)
Description:
1. Thunderkitty vs. Cherry Bomb
2. Solo Darling vs. Marti Belle
3. Xandra Bale vs. Miss Natural
4. Kay Lee Ray vs. Kimber Lee
5. Leva Bates vs. Nevaeh
6. Candice LeRae vs. Nikki Storm
7. Courtney Rush vs. Veda Scott
8. Heidi Lovelace vs. AKINO
9. Jessicka Havok vs. Vanessa Kraven
10. Kana & LuFisto vs. Saraya Knight & Mayumi Ozaki
11. Mia Yim vs. Evie
12. SHIMMER Tag Team Championship Match: Kellie Skater & Tomoka Nakagawa vs. Tsukasa Fujimoto & Kaori Yoneyama
13. SHIMMER Championship/Four Way Elimination Match: Cheerleader Melissa vs. Madison Eagles vs. Athena vs. Nicole Matthews
Price: $15.00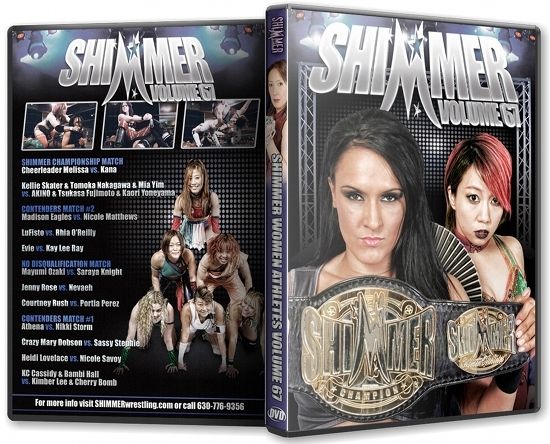 SHIMMER - WOMEN ATHLETES Vol. 67 (DVD)
Description:
1. KC Cassidy & Bambi Hall vs. Kimber Lee & Cherry Bomb
2. Heidi Lovelace vs. Nicole Savoy
3. Crazy Mary Dobson vs. Sassy Stephie
4. Athena vs. Nikki Storm
5. Courtney Rush vs. Portia Perez
6. Jenny Rose vs. Nevaeh
7. Mayumi Ozaki vs. Saraya Knight
8. Evie vs. Kay Lee Ray
9. LuFisto vs. Rhia O'Reilly
10. Madison Eagles vs. Nicole Matthews
11. Kellie Skater & Tomoka Nakagawa & Mia Yim vs. AKINO & Tsukasa Fujimoto & Kaori Yoneyama
12. SHIMMER Championship Match: Cheerleader Melissa vs. Kana
Price: $15.00





Vols. 70-75 Six DVD Combo Price: $90.00







Vols. 68-75 Eight DVD Combo Price: $120.00